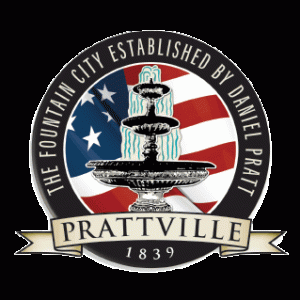 Prattville is a city in Autauga and Elmore counties in the State of Alabama. As of the 2016 census estimate, the population of the city is 35,606. Nicknamed "The Fountain City" due to the many artesian wells in the area, Prattville is part of the Montgomery metropolitan statistical area and serves as the county seat of Autauga County. The city is northwest of Montgomery.
About Prattville:
Prattville was founded in 1839 by industrialist and architect Daniel Pratt. The area was largely inhabited by Native Americans and a few settlers when Pratt, a native of Temple, New Hampshire, first observed the Autauga Creek in the 1830s. He purchased approximately 1,000 acres (4.0 km2) from Joseph May at $21.00 an acre, and set out to build his manufacturing facilities and the town along the banks of the Autauga creek. The location was chosen because the creek could supply power to the cotton gin manufacturing equipment. The town became an industrial center and rapidly grew. In 1868, it was named the county seat for Autauga County.
Prattville contains several sites on the National Register of Historic Places, including the Daniel Pratt Historic District, Bell House, and Buena Vista.
City of Prattville Government Information:
Mayor: Bill Gillespie, Jr. – 334-595-0101
City Clerk: Cathy Dickerson – 334-595-0121
City Engineer: Robby Anderson, PE – 334-595-0550
City Planner: Joel Duke, AICP – 334-595-0500
Chief of Police: Mark Thompson – 334-595-0202
Fire Chief: Terry Brown – 334-595-0300
City Council Members
Autauga County Government Information:
Autauga County is a county in the State of Alabama. As of the 2010 census the population was 54,571.Its county seat is Prattville. Autauga County is part of the Montgomery Metropolitan Statistical Area. Autauga County was established on November 21, 1818, by an act of Alabama Territorial Legislature (one year before Alabama was admitted as a State). As established, the county included present-day Autauga County, as well as Elmore County and Chilton County.
Autauga County Commissioners
County Engineer – John Mark Davis – 334-361-3761
County Sheriff – Joe Sedinger – 334-361-2500
Probate Judge – Alfred Booth – 334-361-3728
Revenue Commissioner – Kathy Evans – 334-358-6789
County EMA – Ernie Baggett – 334-361-3758